Summit Aviation Medical Transport
---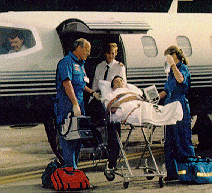 ---
Mission Statement
SUMMIT AVIATION Medical Transport Division is dedicated to Excellence in Patient Care and Rapid Response to our Clients. We are a group of highly skilled, specialty trained professional physicians, nurses, paramedics, respiratory therapists, pilots and coordinators who are committed to patient care and expert service.

We operate within all mandatory regulatory guidelines and exceed many voluntary agency guidelines. We abide by the Association of Air Medical Services (AAMS) staffing standards with respect to critical care for all advanced cardiac life support transports. An ACLS certified nurse and ACLS certified paramedic are the minimum staff provided by Summit Aviation, Inc, Medical Transport. In addition, any flight can be customized to include a physician and respiratory therapist if patient care dictates.
---
Summit Aviation Means....
Twenty-four hour dispatching
Rapid response time
All captains are ATP rated with special emphasis in medical transportation
Medical Personnel are Summit employees and are extensively trained in flight physiology and flight safety
All medical personnel are certified by the American Heart Association in Advanced Cardiac Life Support
Physician to physician consultation available
Aircraft are medically dedicated, company owned and maintained
All transports are bed to bed
Competitive pricing
International / domestic escort service available
---
When You Call....
When you call you call 1-800-597-4655 you will be asked to provide the following information.
Your name and location
Patient's name, age, and weight
Diagnostic and purpose for transport
IV medications currently being administered
Special equipment needed for the transport, i.e. ventilator, ETCO 2 ,IBP monitoring and A-line

Please be prepared to provide the following:
A physician order for the transport
Copies of the transfer paperwork(chart, x-rays, scans and interfacility transfer sheets)
Copies of the face sheet to facilitate the transfer
Verification of acceptance from the receiving facility

The flight nurse will call the sending facility for a patient update
---
Our Medical Staff
Physician Staff:
David W.Bauer, MD, Ph.D.
(Medical Director)
Board Certified, Family Practice
John Dingilian, MD
Board Certified, Family Practice
J. Nathan Rubin, MD
Board Certified, Internal Medicine-Cardiovascular Diseases
Jan H. Dauer, MD
Board Certified, Internal Medicine & Critical Care
Board Eligible, Emergency Medicine