The Balboa Net
---
October 14, 1995 A Weekly Publication for Region 33 Soccer Volume 9, Number 6
---
DIVISION 1 GIRLS
Rage 4 / Burbank 0
Canyon Country 1 / Rage 0
Saturday, the Rage beat Burbank 4-0. The goal in the first half was scored on a breakaway by Stacie. Another goal was scored by a perfectly placed ball by Emily. "Way to be there." Jessica scored two absolutely beautiful goals. The defense went man to man with Burbank. They never had a chance.

Sunday, the Rage was just plain "unlucky." They dominated Canyon Country. The whole team passed to one another beautifully. Offense was right on! They had many terrific shots on goal. Rage played a great game even though they lost. Congratulations Mark and Howard on your great coaching!
---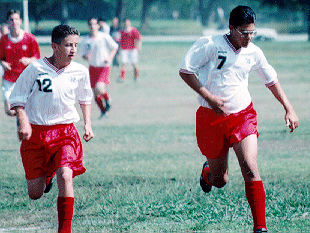 Derrek Mechammil and Todd Greenberg of the Division 2 Jets charge down the field in last week's match against Saugus.
---
DIVISION 2 BOYS Jets 3/ Saugus 1 Sunday, September 24th - good effort after we woke up. In second half lost 3-1 to Burbank. Saturday, September 30 we played exceptionally well scoring 3 goals - two by Hector and one by Angier with assists by Ryan with a mud bath and Daniel with a beautiful free kick which was headed in the goal by Angier. Excellent defense by Raoul, Derrick, Aaron, Roger, Todd and Daniel. The combination of Vladi pass to Ryan pass to Hector for a goal. Saturday, 10-7 a thriller from Balboa. We looked slow at the beginning but picked up immediately. Javier passed upfield to Hector to Angier - spectacular goal. Angier got another one with help from himself. Hector scored on a nice cross by everybody. Excellent goal tending by Eric and Kevin who almost scored himself!