The Balboa Net
---
October 14, 1995 A Weekly Publication for Region 33 Soccer Volume 9, Number 6
---
DIVISION 3 BOYS
Heat ll 2 / Balboa United 1
Heat ll another well played game. Zack had a fantastic goal in first quarter. Octavio, Sergio, Manit, Aaron and Luis out played our opponents. In secon half we got too confident but finally we prevail with Octavio's goal in fourth quarter. Luis, Chris, very good defense. Good game Heat ll goalie David Teshinsky.
Avalanche 2 / No Fear 0
Avanlanche played another great game beating No Fear while giving up no goals! Avalanche took a 1-0 lead late in the second quarter when Anthony B scored on a free kick following a foul. Ben E scored his first goal of the year off a beautiful assist by David K to make the score 2 - 0 . Raymond A, Ian F and Pepe S smothered every offensive rush. Kyle P, Eric A, Edwar M, Evan S and Weston C played great, controlling the ball in their offensive zone. Another great game in goal getting his third shutout in a row.

The first half was highlighted by excellent all around soccer. Adin and John were everywhere. Andy and Jaime moved the ball well and kept the pressure on. Jeffrey made a beautiful flying goal score. The second half played out very close. The Fears worked hard and showed again how good a team they are. Good job Fears ....we are proud of you.
---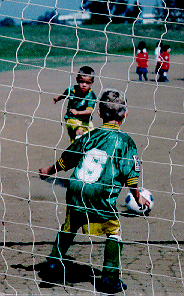 Boys 8 Dolphin Francis, the fifth Lawlor to play at Balboa, gets ready to kick one in.
---
Treville 2 / FC United 1
Treville returned to its winnig ways wiht a tough 2-1 victory. Goals by Darryl and Todd led Treville with great support from Devin, Leonard, Chris, Paul, Ori, Michael O, Nathan, Patrick Benjamin, Michael Davis in goal and super defense and outlet passes by Kevin.

A mighty effort aginst the number 1 team ended in an honorable 2-1 loss for the F.C. United. The first half ended with Treville ahead 2-0. F.C. United came alive in the scond half wiht a goal scored by Ramin Haverim off a corner kick by Virgil Orap. Great defense by Jeremy Bamberger, Whitney Ackerman and goalie Joshua Cherry successfully held off Treville for the remainder of the game.
---
DIVISION 3 GIRLS Rebellion 2 / Burbank 0 Rebellion does it again! Great offense and defense by Stephanie J , Hayley, Dayana, Adrienne and Anne,powerful kidks by Stephanie H, Denise, Mindy, Sandy and Carla, and great goalie work by Brandi resulted in a goal scored by Tera in the third period and a goal scored by Megan in the fourth. Great teamwork! Firecats 1 / VNSO 2 First quarter Firecats played strong defense at second quarter Emily heroically saved plays as goalie. Strong moves by Sarah, Kit, Jessie with Jenny stopping well. By the second half Monica scored . The Firecats fought fiercly to protect,defend and score. Kirsten, Jessie, Mae and Tiffany showed tremendous energy and played great. Georgina and Sabinas strong kicks and Sasha's defense all showed marvelous team work.

---

Go to [Division 1 and 2], [The Balboa Net], [Division 4]