The Balboa Net
---
October 14, 1995 A Weekly Publication for Region 33 Soccer Volume 9, Number 6
---
Division 4 Boys
Crushers 3 / Predators 0
What a blowout game. Shane Silver scored quickly (a header) with an assist from Omar Limon. Then Pouyan Mahovian passed to Seth Burleigh for the second goal. Great defense by Zachary Dawes, Matthew Derin, Matthew Moore-Kochlas and Brent Nielson. Long kicks by Quinlan Carthane, Jonathan Lexa and Tom Kelly helped keep the Predators at bay. Headers seemed to be the name of the game with Anthony Gonzales, Shane Silver and Seth Burleigh all having their share in this contest which ended shortly after Omar Limon scored a decisive last quarter goal for a shutout.

Outnumbered, the Predators showed their guts and class. Super "D" by Matt Isken, Craig Schreiber and Manny Rodriguez and a wonderful goalie performance by Danny Katz. Ilie, Adam, David, Ben, Matt H. and Josh were knocking on the door all day; next week they'll get in. Hang in there guys!
---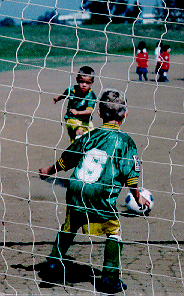 Boys 8 Dolphin Francis, the fifth Lawlor to play at Balboa, gets ready to kick one in.
---
Venom 2 / Bulldogs 0
Venom took a big bite out of the Bulldogs, 2-0. In the last quarter, Drew Firestone got his fangs into the Bulldogs, scoring the first goal with help from Saman Akhlaghfar. Brad Allen turned the Bulldog's bark to a whimper in the fourth quarter, with a goal assisted by Tommy Andrews' corner kick. Timmy Hsu, David Hsu and Adam Goodchild used their heads effectively, and Aaron Burdick was particularly poisonous today. Outstanding goalie play by Justy Burdick and Landon Sorgenstein rendered the Bulldogs totally non-aggressive, while Ryan Amborn was vicious on offense and Matt Mossanen was tenacious on defense. Way to go, Venom!

Hustle galore demonstrated by Dan Witt, Brandon Kleinman and Jacob Hoffert in the first quarter despite being down one goal. Second quarter was pressure filled with Ari Bernard, Aaron Cohen and Danny Conte power kicking across the field. Bulldogs dominated the third quarter with David Eskander, Hector Jarquin and Noah Kline using their snake poison kits. Shaun Bell out of goal, along with Kip Antonelli-Friedman and Scott Podell charged up field relentlessly.
Balboa United 4 / P. C. Kickers 0
Balboa United played their strongest game of the young season defeating P. C. Kickers 4 -0. The offensive onslaught was lead by Justin Green, Danny Sands, Danny Barth, Brett Lipman, and Moises Ojeda with precision passes leading to three goals by Justin Green and another by Daniel Sands. The tremendous defensive effort was spearheaded by Spencer Sherman and John Dzundza with strong goaltending by Erin Samuel and Alex Beylerian who each played a half. Special mention for Cyrus Sabaren for his persistent defensive effort.

The Kickers controlled the field for the first half of the game with crushing midfieldkicks by Courtney Steiner and David Vos pressing the goal with drives by Derek Moore, Alan Mandillian and Jackie Lawlor to no avail - the United team managed to break through the tough Kicker defensive lineup of Kamran Jahangard, George Karas and Andrew Engelstein. During the second half the Kickers refused to loose heart battling kept the Balboa United to the end.
Thunderhawks 3 / R H C Peppers 2
In the tenth minute of the first quarter we saw terrific action thanks to the awesome talents of Craig who assisted Colin in a superb goal. Equally marvelous was Colin's second score in third quarter achieved with great set up by Justin. The winning tally came when Craig did his thing as Edgar put the ball in the right place. Without the fancy footwork of Yuri, Michael, Kevin and Donovan this game would not have ended the same. The defensive techniques of Onnik, Mikel, Ophir and the ever reliable Neil made it ever more exciting. But a triple hooray for Chris, our goalie, who saved the game and made the day!

The RHC Peppers mounted a strong contest with the Thunderhawks. The offense was led by Aaron Mendelovitz, Danny Lopez, David Burstein and Eric Adler. It was a head to head battle for the first half. The second half offense was beefed up by David Vickter who assisted our second goal! Defensive action by Mat Rakow, Robin Vyas in goal, and Brian Lacher. Daniel Schwartz kept the game really exciting!
Sidekicks 1 / Soccer Co. 1
It was a thrilling first half as the Sidekicks planned a takeover of the Soccer Co. Richard Lopez debuted in goal and it was grand! Defensemen Yavar Assil, Andrew Pierce and Juan Lopez took flight as they body-slammed several balls in midair. Our offense dominated as Josh Cohen and Isaac Garden had shots on goal, while Allan Enriquez assisted every which way. Brian "big kick" Romero kept busy in midfield, with backups Conrad Lopez, and Kevin Shore ready to explode into action. The second half was just as "knuckle whitening" with Isaac taking a penalty kick and blasting one past the opposing goalie to tie the score! Max Shaft and Jon Seaton, our favorite road runners, were true to form shaking loose all balls in their path. This was definitely a merger of two great teams!

The Soccer Co. played to a 1-1 tie against the Sidekicks. The only goal of the game with many shots on goal, was set up by Daniel Mizraki to Michael Halimi (who played great.) After rebounding off the goalie, Xin Yang put in. Excellent play by Marlin Zepeda, Brandon del Rosario and of coarse big foot Noah Stern on defense. Dana Ohmen was awesome as goalie. Hard work by David Mintz, Emmanuel Durant, Andrew Lakin kept the Sidekicks at bay. Gerred Link and Greg Fullerton kept the ball moving forward. Scott Martin, who's hand was broken in last week's game against the Venom, gave moral support to the team. We'll be looking forward to is return in two weeks.
---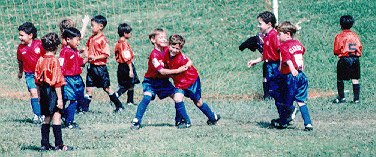 What better place than Balboa Park on a Saturday for youngsters to have a great time, make new friends, enjoy life and maybe learn a little bit about soccer.
---
Thunderbolt 4 / Thunderhawks 1
Victory to the Thunderbolts second week in a row as we dominated the Thunderhawks once again. Hats off to Sean on his hat trick - 3 goals in one game! Todd aggressively scored our first goal with great plays from David J, Zach and Ian. Awesome defense by Kenny, Zak, Rafael, David, and Hagop. Great saves by goalie Evan who kept our opponents ball away. Super hustling also by Ryan and Brian contributed to our success!

Conditions were right, but the circumstances didn't cooperate. Having lost to this team before, tension was high. We got off to a 1-0 lead when Craig managed to score beautifully assisted by Colin. In offense Justin, Kevin and Donovan did a fine job. On the defensive end Edgar, Yur and Onnik, Misel and Ophir made great attempts to stop the opponent but not even Neil could do that. In goal Chris and later Michael tried their best, but lady luck was not around. Great try Thunderhawks!
---
DIVISION 4 GIRLS
Storm 2 / Balboa Sting 0
The Storm put together a solid performance to defeat a strapping and determined Balboa Sting 2-0. Antoinette Flores scored on a penalty kick and Melissa Kahn scored off a perfect pass from Jessica Bol. Joey Lucas and Meri Stucker were all over the field with strong midfield help from Camille Idiaquez, Nicole Hilligerad, and Caitlen Howard. The defense was led by Amy Schwartz, Lauren Elan and Michelle Gorman while Zoey Taylor was particularly strong in goal!

The Sting played very well throughout the game, fighting the Storm to a draw throughout most of the game. Great effort! Brenda, Briana, Annette and Lindsey as goalie anchored the defense. Jenna, Samantha, Leslie , Krystina and Leah supported the half line. Jane, Lauren, Amanda and Janna on the offense created several close scoring opportunities.
Chaos 5 / Avengers 1
Holy cow! Chaos won their fifth game in a row. The game itself was dedicated to coach Danny's mom's birthday. After an unusual version of "Happy Birthday", Chaos took the field and boy were they ready! Two minutes into the game, Jamie scored. Then she assisted a goal to Alexandra who executed a perfect play. Then, Jamie, feeling hot, kicked a high ball from way outside the box, to score the third goal of the game. Later, Malorie scored a goal from what seemed to be an impossible angle. If that wasn't enough Nicole B, determined to score settled for an assist to Carrie who scored her first AYSO goal. Again with aggressive offense, strong defense, and untouchable goalies Chaos treated themselves to another chaotic victory.

Fielding only 11 girls, the team fought a hard game. The shots on goal were few but right half back Julie Gallucci kicked one in from 18 yards to bring pride to a hard working team. Go Avengers.
---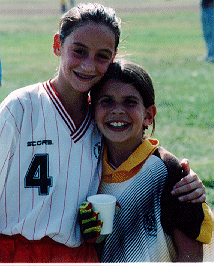 These two don't look anything like the G-4 Wild Things they claim to be.
---
The Slam 5 / Cyclone 0
The "pig-tailed coiffed" Slam scored their goal just minutes into the first quarter. Chasing her own pass Megan Ferkel scored her first goal of the game and then went on to score a total of four. Jessica Goren skillfully perfected the goalie position holding off dozens of shots on goal to record a shutout. Amy Stark really came out of nowhere to stop a Cyclone breakaway keeping them scoreless. Stacey Lloyd's big kicks kept the offense slamming the opponent.

So what do you get for time of possession? Cyclone played a very good ball control game with Kathleen Ward storming toward the goal and placing many balls on the opponents net. Emily Harrison, Chanel Raisin, Suzanne Pakier, Bretanya Dubin, and visiting player Trisha Harrison each had at least one shot at the Slam goal. But the opponents goal keeper Jessica Goren slammed the door shut on every attempt. Christina Ramirez, Rachel Bernstein, Jenna Gorlieb, Alison Gross and Jaclyn Rosenson fought hard all day long to hold off the offense of the Slam. However they couldn't stop the four goal performance of Mighty Megan Ferkl. Cyclone looked very strong on the field, and played hard to the final whistle. Good effort girls your day will come.
Wild Things 5 / Winnetka 1
Teamwork prevailed throughout the first half. That was with a nine member team! Natasha, Sara and Jocelyn passed and persisted to score three goals. Jenny and Joanna were strong at midfield, scoring the fourth goal. Jessica , Melissa and Rachel were strong and consistent in defense. Arin protected the lead with her goal tending. The entire team continued their individual efforts in the second half to score the fifth goal on a penalty kick. Concentration, strength, positioning, drive, speed, persistence, attitude, passing and teamwork. That's what the Wild Things are made of! Keep up the good work.
Blade Runners 3 / Red Wings 1
Teamwork prevails! Sarah Wurtz, Nicole Waller, Robin Rosenblatt and Tara Poosti were persistent in attacking the ball. Nicole scored a goal on a great pass by Grace Miller and Melissa Epstein scored twice. Big saves by Danika Kasky, Katie Kellenberger, and Danielle Bonenfaut kept up the opposition, as Jessica Younger, Brett Williams, and Taleen Apelian provided dynamite offense. Great game, great coaching!