The Balboa Net
---
October 14, 1995 A Weekly Publication for Region 33 Soccer Volume 9, Number 6
---
DIVISION 5 BOYS
Comets 3 / Reccos 1
The Comets came out soaring with two goals by Jonathan Zweig as the game began. Jonathon Tauber kicked a long drive and Matt Shayefar played strong defense in the second quarter. Zack Schau turned the play around in the third, with Kevin Postler, Pat Ponahoe and Mark Gogoshian taking control. Kevin Vollmer was awesome making two goals in the third and fourth quarters. Sean Fitzgerald, Mark G., John Hawley and Jantzen May teamed together to bring the game to a wining end!

It was a tough game as the Reccos gave all they had to try to defeat the mighty Comets. Great defense was played by Chris K., Adam and David T. Max has wonderful coordination and scored our first goal. Terrific passes were made by Chris C. and David A. Seth was out there all the way. Nick made some superb saves at the goalie post. All in all the whole team gave it their best shot.
Attack 3 / Mad Dogs 2
The sun came out shining as the Attack hit the field. They started out strong by scoring a goal in the first quarter by Josh with an assist by Loran. Although the offensive passing by Adam, Najib, and Gregory was strong the Mad Dogs pulled ahead at the half. The defense held the Mad Dogs at bay. Josh pounded in our second goal at the end of the third quarter. The fourth quarter proved to produce the winning goal again by Josh but with the great teamwork of the whole team and an immediate assist by Loran. The goalie did a great job this half. Ben hustled as forward. Great game guys !

John Carter's energetic defense, and a steal by Brian Swartz held back the Attack. Justin Lashing scored a dynamite goal with Andrew Snyder and Glenn Steinbaum persistently pressuring the ball. Noah Nudell scored the second goal as defense by Michael Schlossberg, John Kellenberger and Sean Taylor helped Jack Johnson turn back attempts on goal. Nonstop offense by Tyler Hurt, Anthony Sinatra and Seth Friedman characterized an exciting, hard fought game. Super effort!
Boomers 6 / Street Heat 3
Good passing action in the first quarter. Ryan G. attempted the first score, nice try! Michael L. hit early with the first goal. Ben played great defense. Jason and Brian kicked hard putting the ball down field. Michael passed off to Adam G. in the second half for the second goal. Ryan T. passed off to Adam G. for the third goal. Bobby and Andrew were very effective on defense, good job boys. Ryan G. kicked a slow rolling ball for the fourth goal. Albert played hard kicking effectively. Alex placed the fifth goal with a high flying kick. Wow! Goal #6 was made by Michael L. What great foot moves! Great game!

Street Heat was scorching hot in the first half. Two goals burned by Michael and Bret. Second half Michael scored another goal. Street Heat goalies Salah, Christopher and Ahmad did a great job. Jay, great running and blocking. Daniel, good passing, Andrew you tried hard, Dan always in the right place. Michel good concentration, Joshua what improvement and Seamur good playing.
Doom 5 / Tornados 0
The team played excellent offense, scoring 2 goals in the first quarter courtesy of Sebastian. The second quarter saw no goals but excellent defense by Justin, Jesse and Teddy with the help of great goalies Daniel and Anthony. The third quarter Sebastian kicked another ball in giving us a 3 - 0 lead with assists from Jay Jay, Andrew and Bryan. Sam, Zachary and Chris played an excellent game and Daniel N. shot two great goals in the last quarter and sealed our victory.

The Tornados played hard against Doom, ultimately losing. This was despite outstanding goal keeping by Blenn Cagan and Brian Gardner, assisted by defenders Philip Gross, Amir Jahangard, and Avid Shayan. Some brilliant midfield play was seen from Michael Eandi, Shane Kushner, Kevin Hoberman, and Aaron Adelson. Offensive players Taylor Davis, Aaron Lippman and Noah Kraft nearly scored several times.
---
Tunnels after games are another ritual that occurs on a regular basis at Balboa Park. This one is the Girls Division 5 Scorchers.
---
Scorchers 1 / Tidal Wave 0
Scorchers were hot today defeating the Tidal Wave 1-0. Jamie Artsis scored the only goal, assisted by Allie Costa's great offense. Baily Kerin was a dynamo at fullback stopping the offensive threats assisted by Amy Bernstein, Cassie Rapp and Aly Cunial. Tina Sadaghiani was awesome at goalie with two great saves. Jodi Feigenbaum and Michelle Alpert were all over the field on offense, assisted by smart play and good moves by Alana Weiner. Leah Aranoff was the player of the day stopping the offense with good kicks and Brittan Levy controlled the midfield with incredible skill. Great game!

It was a battle of defensive titans. The Tidal Wave allowed only one goal on a penalty kick. Jamie at sweeper broke up many offensive drives. Amanda and Frannie stopped several shots on goal. Jillian showed great footwork. Lauren made some well placed kicks. Gina had three shots on goal. Cheny, Monica and Melanie played aggressive defense. Samantha played smart ball and hustled the whole game. Tough game, Tidal Wave.
Iron Girls 2 / Soccer Queens 0
Go Iron Girls! First quarter great saves by goalie Maegan. Big defensive boots by Emilie, and Jackie. Second quarter great rush by Amanda, hustle and kicks by Alex. Aggressive play by Eisha. Great goal kick by Kanika. Third quarter goal kick by "tootie" Guiliana, header by Jamie! Upfield kicking by new sister Paula! Goal protection by Ashley. Fourth quarter good goalie defense Sarah! Header by Maegan! Our first win!

Some great passing by dynamite Dana and sizzling Samantha! Jazzy Jamie and Julia, the Jewel, had a couple attempts at goal but the quarter ended scoreless. Leapin Lindsey - great goal catchers! Jammin Jenny and Killer Karen kept the ball moving with skillful passes. Kicker Corey - great stops! Julia the Jewel and Lightning Lindsay controlled the ball well. Tornado Trisha what hustle! Marvelous Molly - great job in protecting the goal! What a header Corey! Fabulous saves by Crystal the Crusher. Killer Karen sure has a great kick! A great game Queens - you made them work hard for their score!
---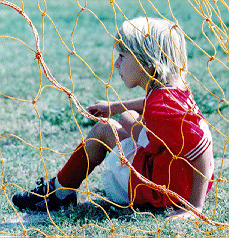 This young fellow has found a comfortable spot to take a rest.
---
Mermaids 5 / Sweet Venom 0
The Mermaids dominated from start to finish. Jamie got things started with the first of two goals. Teresa added two more and Lindsay finished things off with a beautiful change of direction. Laura and Nocole anchored a strong half-line while Simona, Colleen and Angie shut things down defensively. Yeah Mermaids!